Useful Information
Opening Hours
Our reception is open during the following hours:
| | |
| --- | --- |
| Monday, Tuesday, and Thursday | 8.30 am - 5.30 pm |
| Wednesday | 8.30 am - 7.30 pm |
| Friday | 8.30 am - 1.30 pm |
The dentists' and hygienists' hours may vary within these times and are explained by our receptionists when appointments are requested.
Please note that if we are very busy and unable to get to the phone messages can be left on our answer machine. We always do our best to return calls promptly.
The surgery is closed at weekends and bank holidays.

Emergencies and Out of Hours Treatment
During opening hours we do our best to prioritise patients who are in pain and require an urgent appointment. Time for emergencies is reserved everyday for this purpose. We do urge patients who require emergency treatment to contact us as early as possible in the day to ensure that we can allocate an appointment. Patients who are registered at Laxey Dental Surgery are always given priority over unregistered patients.
For out of hours emergency dental treatment we ask patients to telephone the usual practice number (01624-863422) where a recorded message gives details of emergency cover.

How To Find Us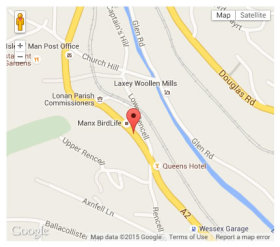 We are situated on the main road between Ramsey and Douglas, just a few doors away from Swales Flooring.

Access
The surgery is all on one level and is easily accessed from the pavement. Our entrance door and internal doors all allow wheelchair access. There is free and easy parking outside. We also rent car parking space from the Queen's Hotel Public House which is just a short walk away. All visitors to the surgery are welcome to park there when visiting us, if street parking is difficult.

Appointments
To make an appointment patients should telephone our reception on 01624-863422 or call in to see us during surgery hours. We ask that appointments are not requested by e-mail as it is always much easier to assess patients' needs via a conversation.
We require at least 24 hours notice to cancel an appointment. This then gives us the opportunity to offer that appointment to someone else. If an appointment is missed or cancelled at short notice a fee may be charged as a contribution to our overhead costs.
We do our best to remind patients of appointments that have been booked well in advance although we cannot guarantee this. A text messaging reminder service is used for patients who have given us a mobile number. It is therefore important to keep us informed of any changes in contact numbers.